Master of Social Work Online: Career Outlook
Support the communities that need you most.
When you graduate with a Master of Social Work from the University of Kentucky, you'll have the foundation you need to provide meaningful support to any community, including some of the most vulnerable and underserved populations. As an MSW student, you'll have the option to earn a specialized certificate in an area like Clinical Social Work, Child Welfare, Military Behavioral Health, School Social Work, and Substance Use Disorder, or choose the Individualized Plan of Study where you select your area of focus. With the highest licensure exam pass rates in Kentucky and among the highest first-time test-taker pass rates nationally, you'll be able to put your social work education into practice quickly.
See more MSW program licensure information.
The Bureau of Labor Statistics projects jobs to grow at a rate of 12 percent through 2030—much faster than average for all occupations—meaning social workers are in high demand to provide support across settings such as education, family services, health care, and policymaking. Through our CSWE-accredited online MSW, you'll gain the practice-ready skills to make an impact for individuals, families, and communities on the micro or macro level. Graduate with confidence, knowing that you are fully prepared to make a difference in the lives of people in your community and beyond.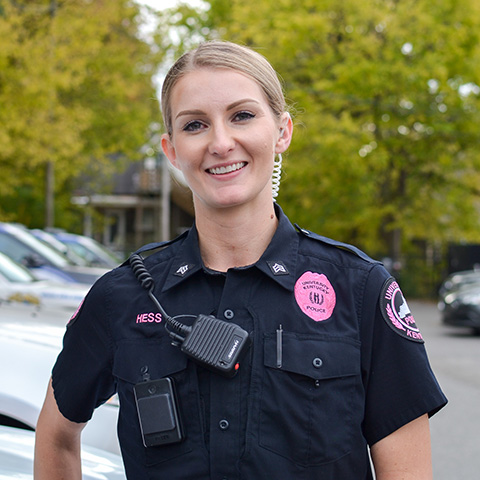 Student Spotlight
Sergeant Samantha Hess
Through UK's CSWE-accredited online Master of Social Work program, UK Police Sgt. Samantha Hess builds on her passion for helping others as she learns to provide innovative, effective support to diverse communities. Sgt. Hess has been gaining the skills to assess the need for, implement, and evaluate the results of interventions.
"I want to incorporate my degree and education into my law enforcement career by developing some structure for victims here in UKPD. Social work is helping me take a step back and look at the big picture when I'm working with someone and how this interaction may impact their life. I think a lot differently."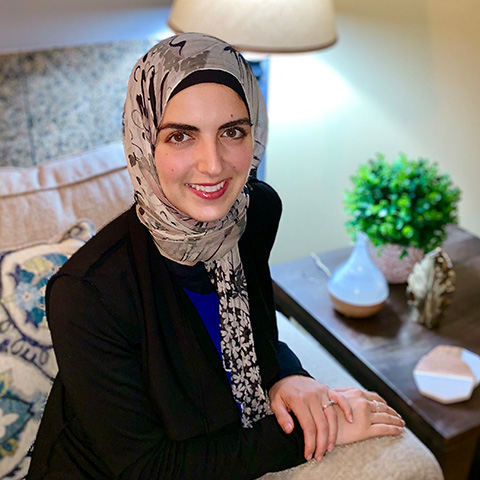 Student Spotlight
Nada Shalash
Nada Shalash earned a master's in clinical social work from UK in 2019.
She is a licensed social worker at a non-profit psychological and spiritual wellness center that serves the Muslim community. She also provides individual therapy for adolescents and adults.
"The classes and practicum training offered at UK allowed me to explore several aspects of social work rather than being forced to focus on a single population/area," Shalash said. "The practicum opportunities provided me with experience."
Child, Family or School Social Worker
As a child, family or school social worker, you would work with at-risk children to ensure the safest possible situation in their home, school, and other environments. You would assess health and psychological risks, work with each child's family, and act as an advocate for that child within various interfacing institutions.
Clinical Social Worker
As a clinical social worker, you would conduct integrative assessments and provide interventions with individuals who are considered at risk due to social, emotional, physical or cognitive vulnerabilities. Your daily responsibilities could vary widely depending on where you practice, including counseling agencies, substance abuse treatment centers, hospitals and medical settings, schools, law enforcement, residential nursing facilities, mental health clinics, and beyond. You could diagnose patients with psychological disorders, provide treatment plans, and refer them to further resources.
Additional roles for social workers with a master's degree:
Mental Health and Substance Abuse Counselor
Psychiatric Social Worker
School Social Worker
Health Care Social Worker
Social Work Supervisor
Behavior Analyst
Request more information or a consultation
You're likely to have questions as you make your decision about pursuing an online degree. From program information to application process details, we're here to help you find the answers you need.
MSW: Child Welfare Practice Certificate
Build a comprehensive understanding of topics influencing child welfare practice, including historical perspectives, child protection policy, and abuse intervention. Students may apply for the certificate after being accepted to the online MSW program.
MSW: Clinical Social Work Certificate
Gain an advanced level of clinical knowledge and skills including application of social work practice in a variety of clinical settings. Students may apply for the certificate after being accepted to the online MSW program.
MSW: Military Behavioral Health Certificate
Gain a deeper understanding of the unique experiences of military members, veterans, and their families, and explore effective and culturally-sensitive behavioral healthcare services for this population. Students may apply for the certificate after being accepted to the online MSW program.
MSW: School Social Work Certificate
Develop critical skills through study and experience to assess and intervene on behalf of children and adolescents in a school setting. Students may apply for the certificate after being accepted to the online MSW program.
MSW: Substance Use Disorder Certificate
Learn treatment and prevention approaches related to substance use disorders and develop essential intervention skills through a curriculum founded on evidence-based practice. Students may apply for the certificate after being accepted to the online MSW program.
MSW: Individualized Plan of Study
Create your plan of study based on your specific career goals through a selection of social work elective courses designed for your professional success. Students may apply for the certificate after being accepted to the online MSW program.