Online Student Experience
Earn Your Social Work Degree. Wherever. Whenever.
At the University of Kentucky (UK) College of Social Work, we believe in helping each of our students find their own path to success. That's why we've designed our accredited online social work degree programs to fit your busy life, with coursework you can complete whenever and wherever you want your classroom to be.
Experience the same high-quality education as our on-campus students, including the resources of the Commonwealth's premier land-grant university. Benefit from the support of dedicated faculty who will challenge, inspire, and guide as you pursue your social work degree online.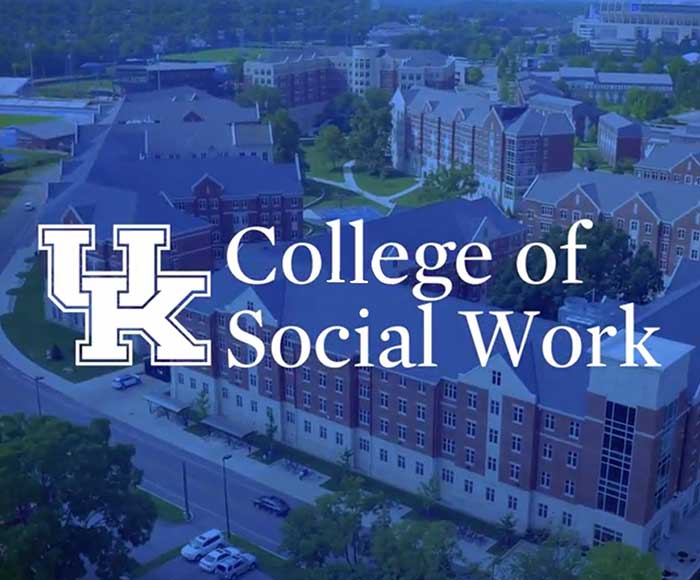 JAY MILLER: The College of Social Work has a rich and storied history. Since 1938, the college has been fervently committed to improving the human condition through rigorous research, excellence in education, and steadfast service.
KALEA BENNER: These values that compel us to strive for better are not innate. Social work is a compelling profession. There is desire to make a difference, to right injustices, and to serve our communities in a way that allows change for the better.
SUBJECT 1: As a social worker, you're going to become an advocate for yourself and your clients. By taking this program online, you can stay in your community and make an impact on the lives of those nearest and dearest to you.
SUBJECT 2: The clients or, very directly, and immediately sometimes, talk about things that are typically off guard.
DIANE LOEFFLER: I think being well organized as an online student is really important– using the resources available to you in Canvas, looking at those due dates and making sure you've got a system that works for you, and, I think too for online students particularly, staying engaged.
JOSH NADZAM: Coming here you would get a really great experience with different teachers who have all sorts of knowledge about research, and clinical, and macro. Whatever your interest is and whatever cause is important to you as a person that you want to advocate for, you'll find somebody in the College of Social Work at UK who can help you sharpen that skill set and be the best advocate that you can.
JAY MILLER: Our education goal is profoundly simple. We will ensure that you are prepared to enter a competitive job market and make the most of the forecasted growth within the social work profession. And in so doing, you will positively impact the lives of individuals, groups, and communities.
Your Online Experience
Earning your social work degree online allows you to stay within your community as you become an advocate for positive change. Our online courses provide the flexibility you need to learn on your time and complete your degree on your schedule. Learn more about becoming an online student and peek behind the scenes of our online program to find out what others are saying about learning in an interactive online environment. Discover how lessons based on real-world scenarios combine with engaging visuals to enhance the learning experience and prepare you for best practices in your social work career.
The Classroom Experience
As an online student with UK, you'll use Canvas, a leading educational platform offering incredible new ways to interact with your courses and academic community, such as:
Video interviews from social workers currently working in the field identifying how theories and skills are regularly used
Interactive activities that spur critical thinking, creativity and assess knowledge
Vivid graphics and visual material to help illustrate concepts
Active oral and written discussions using Canvas discussion forums and videos on topics related to the weekly course content
Authentic assignments help students use and integrate concepts and skills that are essential to social work practice
Plus, you receive around-the-clock technical support, free access to Microsoft Office, and more.
Learn More
Online vs. On Campus
UK online students receive the same benefits as on-campus students, combined with the flexibility of online learning. Earning your social work degree online means you can keep up with the needs of your career, family, and community while you advance your social work practice and save on commuting costs.
Frequently Asked Questions
In an online program, you will interact with faculty and peers through discussions, chats, email, and other modes of communication.
No; graduates of the online program receive the same degree as their on-ground counterparts. There is no difference in the diploma, and modality (online) is not mentioned.
Courses offered during the Fall and Spring semesters are 16 weeks, while the Summer session courses are 8 weeks in length.
Yes; you will have the support of your faculty, peers, and a support team of enrollment counselors, academic advisors, and more. Online coursework at the University of Kentucky is built with the flexibility you need to incorporate your education into your schedule.
Still have questions? We've got answers.
View All FAQs