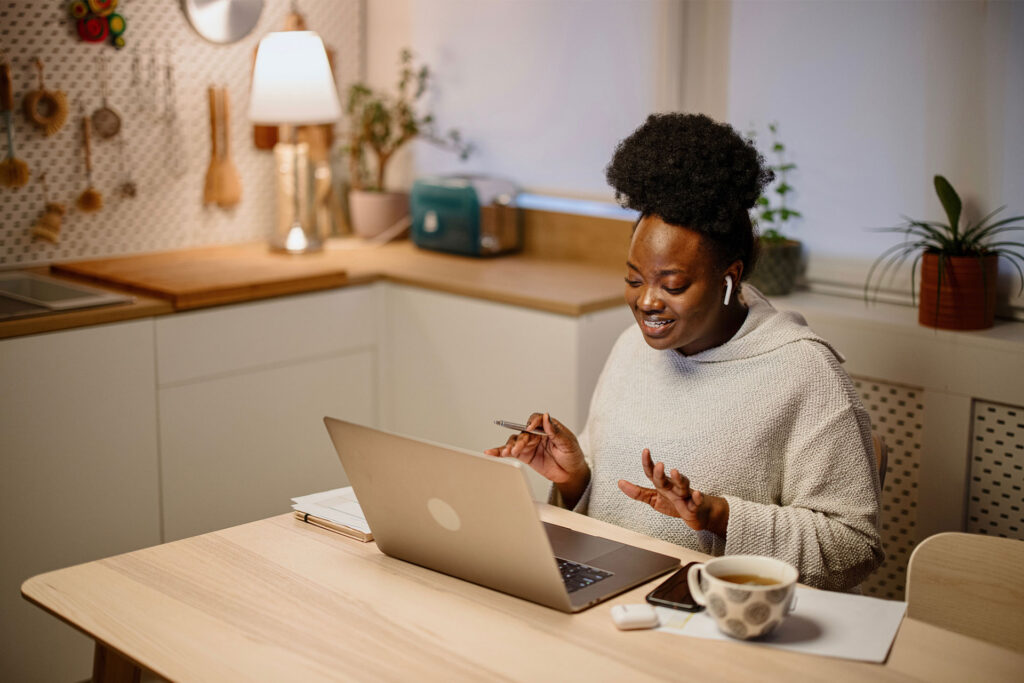 Are you interested in pursuing your Master of Social Work degree? Explore the factors to consider as you search for the program that matches your personal and professional goals. You'll learn about the importance of CSWE accreditation, licensure preparation, field education guidance, and more.
By enrolling in a Master of Social Work (MSW) program, you can prepare to make a difference in your community and career as a social work practitioner. Of course, there are many things to consider when applying for an MSW program—including delivery format (like online or on campus) and accreditation status of the program.
Creating a plan to review the factors most important to you when identifying the best MSW program option can help you be more successful in your search.
Factors to Consider When Researching MSW Programs
There are many campus-based and online Master of Social Work programs to choose from, so here are some key factors to consider when doing your research:
Factor 1. CSWE Accreditation
The first thing to confirm is if the MSW program has attained Council on Social Work Education (CSWE) accreditation, demonstrating it meets rigorous criteria for academic quality and complies with the Educational Policy and Accreditation Standards. Many states require social workers to hold a CSWE-accredited degree to begin the process of attaining licensure, making this accreditation an essential part of your master's program.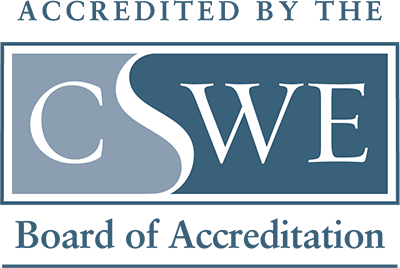 Look for this badge to confirm an MSW program is CSWE-accredited.
Factor 2. Social Work Licensure
For most students, achieving licensure is integral to your career as a professional social work practitioner. When seeking a program, ask the enrollment team about the licensure preparation support you'll receive while taking courses. With the proper guidance, you'll be well prepared to pass the licensure exam.
Note that licensure requirements vary by each state. Before applying to an out-of-state program, verify that it meets your state's professional licensure requirements.
Factor 3. Curriculum
Simply put, MSW coursework must help you become an ethical, effective social worker ready to practice in your community. The courses should impart expertise in the interdisciplinary issues affecting clients, such as (but not limited to) experiences of poverty, inequality, and injustice.
Of course, social work is a wide-ranging field with an array of career paths. By selecting a program that also offers focus areas, you can acquire expertise for your desired specialty. For instance, the University of Kentucky's CSWE-accredited MSW program gives you the option to choose a certificate in these areas:
Factor 4. Field Education
Learning in a real-world environment and completing required practicum hours will play a central role in preparing you to thrive as a social worker. Whether you're considering an on-campus or online graduate program, confirm the university assists with finding field education placements for gaining hands-on experience.
Factor 5. MSW Faculty
What's an ideal way to become well-prepared to make the biggest impact as a social worker? By learning from faculty who already fit that description. Take time to make sure each MSW program includes faculty and staff with extensive backgrounds as educators and social work practitioners. This way, you can benefit from the perspectives of professors and academic advisors who can draw from their own experiences and research as they guide you on your path to becoming a professional committed to justice and equity.
Factor 6. MSW Cost
Tuition is among the top considerations for students selecting master's programs. Fortunately, you have many opportunities to make your education affordable, such as financial aid and scholarships for past academic performance and your financial need.
To help keep your costs low, check if an online MSW program offers the same tuition for in-state and out-of-state students. You can also explore innovative options for funding your education. An example is UK's block tuition, which delivers a flat tuition amount that reduces costs by up to 40% for students enrolled in nine or more credits for that semester.
Factor 7. Student Community
Impactful MSW programs offer more than high-quality academics—they also provide support and guidance through a vibrant community. Universities build community in numerous ways, including collaborative group work, faculty mentorship, and academic resources available on campus and online. If you're an active-duty or veteran service member, you can explore the university's military support programs, such as assistance with using military benefits and veterans resource centers.
Factor 8. Program Modality
Finding an MSW program with a convenient location makes for an easier commute between your home and class. Another great option is to identify universities offering an online MSW program with asynchronous courses that provide the flexibility to continue working while taking classes so you can study when and where is most convenient for you.
"I chose the UK MSW online option for many reasons, including its accreditation status and academic rigor, the many certificate programs it offers, and the block tuition rate."

– Sherry Bithell, MSW graduate
Applying to MSW Programs
After researching MSW programs and narrowing your options, it's time to begin the application process. Because each program has specific admission requirements to satisfy, it's wise to begin the process early so that you can start classes on your desired timeline.
While applying to your MSW program, you may need to provide the following:
Online application with fee
Official transcripts for your past college courses
Resume with work and volunteer experience
Letters of recommendation
Personal statement and writing sample
Keep in mind that the admission requirements may vary based on your educational history. For instance, UK offers two online Master of Social Work program options:
Regular Standing MSW: This 60-credit option is available to students with bachelor's degrees in fields other than social work, enabling them to change careers.
Advanced Standing MSW: Students with bachelor's degrees in social work can select this accelerated, 30-credit program to finish in as few as two semesters.
Be sure to review application deadlines, especially if you qualify for an Advanced Standing MSW and want to begin your field practicum during your first semester. You may need to apply by priority deadlines to have your placement site approved in time.
"From the moment I applied to the MSW program at the College of Social Work, I had support and kindness during the process. The advisor was there for me until the very day I received my acceptance letter into the program."

– Shelley Ledford, MSW graduate
Prepare for Your Future in Social Work
Clearly, you have a lot to consider when researching and selecting an MSW degree program. With the tips shared here, you can begin the process of finding the master's program that meets your needs.
Throughout the CSWE-accredited, online Master of Social Work program from the University of Kentucky's College of Social Work, you can develop expertise in supporting clients from diverse backgrounds in your community. You also can apply the skills learned in your academic journey in macro practice areas such as policy and advocacy-based social work roles. Our expert faculty teach flexible courses that strengthen your commitment to human rights and social justice as you prepare to seek licensure. In fact, UK ranks No. 1 in Kentucky for graduate licensure pass rates for first-time test-takers.
If you still have questions about applying for UK's online Master of Social Work program, please request information today. We're here to assist you and can guide you through the application process.
Recommended Articles
View All