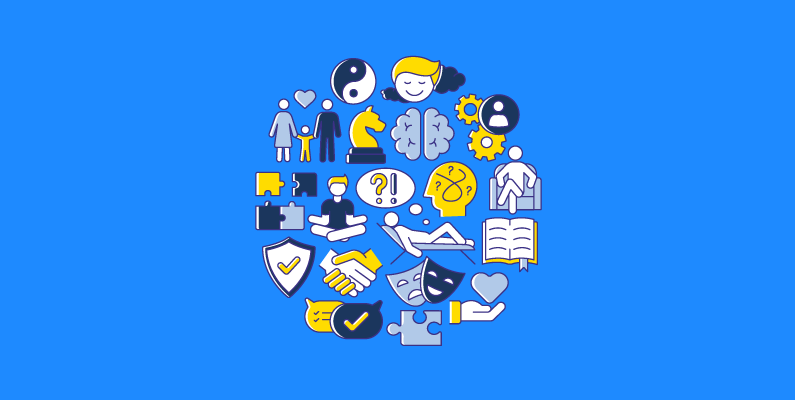 Social workers devote their careers and lives to helping people in need. Their tireless assistance and seemingly boundless empathy are critical and often life-changing for their clients, but this devotion comes at a cost. Protracted exposure to the trauma of others can cause social workers to suffer from compassion fatigue, putting them at risk for physiological, psychological, and emotional stress.
Named by historian Carla Joinson in the early 1990s, compassion fatigue was further defined and researched by psychologist Charles Figley, whose work has contributed greatly to mental health professionals' understanding of the disorder, how to treat it, and how to prevent it in the first place.
What is compassion fatigue?
Alternatively called secondary trauma, secondary traumatic stress (STS), or vicarious trauma, compassion fatigue is an overwhelming mental and physical exhaustion brought on by feeling the pain, stress, and other emotions of the people they are helping. The more empathetic and open they are to the suffering of others, the more likely they are to feel that suffering themselves.
Compassion fatigue in social work can be caused by exposure to a single case of trauma or from residual emotion that builds over years. It can be especially profound if it's caused by counter-transference, which occurs when a professional interaction with a client triggers a personal emotional response from the practitioner, due to a mutual experience. Some of these factors that contribute to compassion fatigue in social work are exacerbated by local, national, and global events and issues, such as public health crises, economic disparities, and civil unrest.
Compassion fatigue is often characterized by a rather fast onset and acute symptoms that mirror those of post-traumatic stress disorder (PTSD). The syndrome can result in social workers feeling numb to the pain of others, and can also make them wary of providing further care or even lead them to psychologically detach from clients as a defense mechanism.
But by learning and adopting regular self-care practices as part of their routines each day, social workers can address compassion fatigue before it sets in, allowing them to reduce or eliminate it altogether, thus transforming their lives in a way that allows them to provide even better care for their clients.
Prevention and Treatment
Developing a solid, holistic self-care regimen and carving out a daily or weekly schedule in which to complete that routine can work wonders for those in the helping professions. Habits, behaviors, and techniques have proven useful in preventing or assuaging compassion fatigue and burnout, including:
engaging in regular exercise
maintaining a nutritious diet
getting increased rest and sleep
taking time off from work — and refraining from checking work calls or messages during these periods
undergoing therapy with a mental health professional
joining a support group
setting emotional boundaries
practicing mindfulness and/or meditation
doing yoga
spending time with loved ones
relaxing outside in nature
engaging in interests or hobbies outside of work
Resilience training: This practice has also been shown to stop secondary traumatic stress and burnout from happening, or to mitigate the symptoms when these conditions occur. It involves educating social workers about STS, burnout, and the associated risk factors, as well as teaching them to use relaxation techniques and construct support networks that will help them cope with the difficulties of their jobs and any symptoms they experience.
Cognitive reappraisal: Along the same lines of emotional regulation, this technique is also useful in preventing or ameliorating compassion fatigue. Cognitive reappraisal entails reframing the way social workers perceive and react to the suffering of others, allowing them to think critically about their clients' pain — and even imagine the emotional experiences of those people — without actually feeling the pain themselves. Cognitive reappraisal stops the social workers' own minds from triggering their bodies' stress responses.
Self-compassion: It's important for social workers to practice self-compassion, defined by psychologist Kristin Neff as personal acceptance independent of success or failure. When social workers' desire to help others is greater than their capacity, this can set up a negative mental cycle of self-blame when they're inevitably unable to fully achieve their objectives. With self-compassion, they are trained to mindfully accept that they cannot do everything and that is ok — the help they are able to provide is still significant, and they need to take care of themselves, too.
Stimulus control and counterconditioning: Licensed clinical social worker SaraKay Smullens, who has dealt with compassion fatigue and burnout herself, recommends employing these two strategies that go hand in hand. Stimulus control involves making various choices to create a healthy work environment for oneself, such as eating lunch away from one's desk as often as possible, socially interacting with coworkers, selecting a comfortable chair, listening to calming music, and bringing plants into your workspace.
Counterconditioning refers to behaviors one can engage in either right before work, after work, or during lunch breaks to develop a more positive association with one's job. These include physical activities like yoga and workouts at the gym; entertaining diversions, e.g., books, movies, TV shows, and theatrical plays; and methods of healing, such as meditation and prayer.
Therapy: Almost 90% of mental health workers seek therapy for themselves with a professional before, during, and after undergoing their own career training, and over 90% of those who do so report high levels of satisfaction and personal growth as a result of their experiences.
Diversifying the work: Changing things up from the normal work routine can be beneficial in reducing secondary trauma and burnout as well. One method that Smullens found helpful was combining marital therapy and group therapy in an unconventional way, placing couples with complex problems into separate groups where each would find another person who reminded them of their spouse.
Another change Smullens made was beginning work as a clinical consultant for a theater company. She met with directors and actors to talk about the lives of some of her real clients that paralleled characters' lives and events in the plays, while keeping the clients' names and other personally identifiable details private, of course. It was a way for her to use her experience and expertise to help the theatrical professionals create better productions and give herself a break from her typical daily grind, which helped her stay mentally well.
Employer support: From an organizational standpoint, employers and supervisors need to do their part to reduce the incidence and severity of compassion fatigue and burnout among their staff. A study of 306 social workers published in the journal Occupational Medicine in March 2020 found that compassion fatigue was linked to increased absences from work due to sickness, higher rates of staff turnover, lower morale, and impaired judgment.
Employers and managers must ensure that their social workers are given sufficient time and support to engage in self-care practices regularly. They should also increase social workers' salaries to a level commensurate with the volume and nature of the work performed. And they must monitor and reduce caseload sizes as needed to make sure they're manageable, which often means hiring more people to decrease the burden on current staff. As reported by Quinn, Ji, and Nackerud in their cross-sectional study in the Journal of Social Work, positive supervisory ratings, increased compensation, and lighter workloads all correlated to lower degrees of compassion fatigue in social work.
Education: For helping professionals, warding off or alleviating compassion fatigue and burnout can and should begin with proper, high-quality education in self-care before they even graduate and enter the workforce. Fortunately, there are college social work programs that teach students healthy practices for taking care of themselves both mentally and physically, in order to safeguard against the deleterious effects of these ailments. Many of these courses of study are taught by professors who are also seasoned, knowledgeable social workers with firsthand experience in dealing with and overcoming secondary trauma and burnout.
Your Future in Social Work
For those who are passionate about service and interested in embarking on a career in a growing field, the University of Kentucky College of Social Work offers the online Bachelor of Arts in Social Work, Master of Social Work and Doctorate of Social Work. All programs feature curricula taught by experienced instructors, many of whom are licensed professionals.
Designed for ultimate flexibility, the online BSW, MSW and DSW allow learners to study on their own schedules and readily interact with their professors and classmates. MSW students can choose to pursue certificates in clinical social work, substance use disorder, or child welfare, among others. Students may also choose an individualized plan of study.
The University of Kentucky College of Social Work is also home to the Self-Care Lab, the first known entity to do empirical international work around self-care and helping professionals, which gives students limitless opportunities for research.
To learn more, please fill out the form located here or call 1-833-358-1721.
Recommended Articles
View All