Military Social Work: My Journey to the Field and 20-Year Career
By Dr. Chris Flaherty, US Air Force Major and Clinical Social Work Officer
Joining the Service
I enlisted in the United States Air Force in 1985, and I wasn't necessarily tracking toward behavioral health at the time; psychology and sociology were always interests of mine, though. In the military, you don't always get the job you want, but you can ask for it, at least. I was going through the big catalog of all potential positions when I came across a description of a mental health technician.
The job was an assistant to social workers, psychologists, and psychiatrists, and, in that setting, was a paraprofessional role. I said, "That sounds fun." So, after basic training in San Antonio, I went back to Fort Sam Houston, Texas. I completed four months of behavioral health technician training, and then I was off to work at the hospital at the Air Force Academy in Colorado.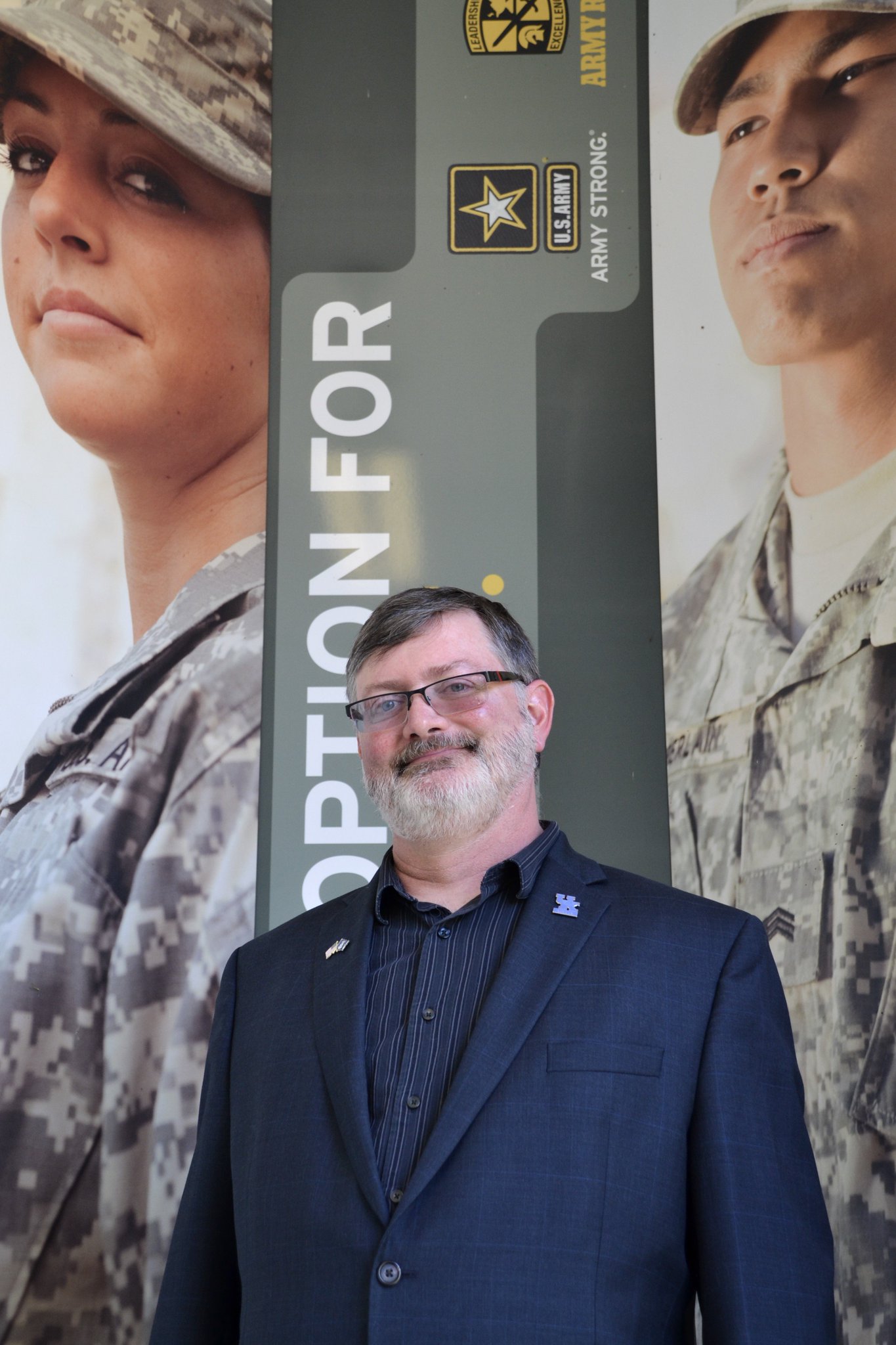 First Military Job
For my first seven years, I worked as a technician, and I got to serve alongside military social work officers, psychologists, psychiatrists, other technicians, and drug and alcohol specialists, which meant I got a sampling of what was involved in those professions. Along the way, I decided to pursue a Bachelor of Social Work degree, and the Air Force sent me to school at the University of Southern Colorado (now named Colorado State, Pueblo).
Undergraduate and Graduate Social Work Studies
The more I learned about social work, the more I saw it as a good fit for myself. I loved the emphasis on not just helping individuals adapt to their environments, but also improving environments to make them more conducive to promoting mental health, by developing supportive policies, practices, and systems.
My level of interest kept growing as I learned more about it. After completing my BSW program and graduating in 1990, I went on to earn my Master of Social Work (MSW) degree from the University of Denver, which I received in 1992. And while I was on active duty, I then applied for commission as a social work officer and was accepted; that was my path from enlisting to landing my first social work job.
Advance your career with The University of Kentucky
Advance your career in Social Work
Serving as a Military Social Work Officer
It was the early '90s when I became an officer, and the system was a little different than it is now. I was green, fresh out of my MSW program, and I was sent to oversee a family violence program for an entire base in a very remote part of the US, with several staff under my supervision.
There were numerous social issues there, including a lot of family violence and alcohol abuse. It was also a place where gambling was legal, so many troops were getting themselves into financial trouble with that. The Air Force sent me there as a new lieutenant and said, "Here's your staff, and here are a handful of abuse cases that have come in this morning." So, I'd say it was a "deep-end" experience.
There was a significant amount that I had to learn the hard way; it was a tough, exceedingly stressful job with lots of long hours. Fortunately, though, I had very good team members as well as great, supportive supervisors who got me through it.
What helped me a great deal were my seven years of experience as a mental health technician working in a similar setting, though the Air Force Academy was mellow compared to this base. But, at least I knew the ropes, the terminology, how military behavioral health worked, and what its roles and functions were.
I became the family advocacy officer, which meant that the buck stopped with me for all domestic violence and child maltreatment on the base. I had assisted military social workers who were family advocacy officers when I was a medical technician; so, that acculturation in my enlisted time made the transition much easier than it would have been had I just been recruited into that role from civilian life.
The combination of that experience and my time as an advocacy officer on that base also served me well when I enrolled in the doctorate program at the University of Tennessee. I earned my Ph.D. there in 2001 while I was still serving in the Air Force.
Life in the Armed Forces
One of the routine challenges in military life is that you can't put down roots too deeply. Don't unpack all of your bags, because you're going to move again. And that's what I tell our students who are considering military careers. If you want to live by grandma and grandpa and aunts and uncles for the rest of your life, don't go into the military — they're not going to let you do that. But if you have an adventurous spirit and like to go see new places and don't mind moving every few years, it can be exciting and fun; and it will provide you with unique opportunities and experiences.
That's just part of life in the armed forces in general, whether you're a military social worker or operating in any other role. That disruption can impose big challenges on family members, especially children who must change schools every few years, say goodbye to their friends, and start over. And my experience was all before social media, too, so I saw my daughter say goodbye to her friends, and they'd try to stay in touch with letters; back then, long-distance phone calls cost money, so you could only do so much.
I never went overseas, though I have lots of colleagues and friends who traveled to Germany and Japan and experience different cultures. That was very enriching for their children in some ways, but it was a big challenge, too.
In the military, for most jobs there's a defined workday, which is called the duty day, but that's just a suggestion; the day ends when the work is done. Depending on where a person is, they could have some long hours and maybe a lot of on-call work. Other assignments, though, are what I call more cushy: After leaving that high-stress base, I went to a warm, sunny place on the beach, where the workday was never more than eight hours and I was never on call. So, there can be a lot of variation depending on where you end up. Usually, folks who are assigned overseas tend to work harder — they often have longer hours, because some of those places just don't have enough staff to do everything that needs to be done well.
The Brotherhood of the Military
One of the things I miss and really appreciate about the military is the camaraderie, which was unlike that of other places of work. There's a certain amount of teamwork in other settings, but it's different in the military in that it's not just the behavioral health team — it's the whole unit, the full group, the entire installation pulling together.
We went through major wartime readiness assessments, for example, during which we had to simulate war games so that we could be evaluated on our skills. Everybody worked hard and put in long hours and then, when we succeeded and passed, everybody celebrated together. There was that all-around dedication to the mission as one team. I would tell myself, "Okay, this is hard, this is stressful, but we're all in it together."
Learning How to Juggle Competing Loyalties
In the military, in some ways, you're serving two masters: You're working for the system, for the command, but then you're also working for your client. So, there's a lot of negotiation that happens — even mental negotiation with yourself in certain circumstances, as you think, "How do I balance serving the interest of my client and also serving the needs of the mission?"
Especially outside of the medical system, teams are always told that the mission comes first, and that's true. But say, for instance, you have a troop who's having some mental health issues. Maybe they're not fit for the duties they're assigned at the moment, but they have the potential to resolve some of these problems and function well again. You have to be able to determine how hard and for how long you should try to save and rehabilitate these persons, and when you should decide that they're a liability to the mission, may put others at risk, and thus can't serve in that role anymore.
So, sometimes it's a fine line in terms of how much you advocate for your client and how much you focus on the needs of the mission and the well-being of the overall group, rather than just one individual. It's always kind of a dance. And in certain cases, it's clear that a person shouldn't have been brought into the military in the first place, and you find a way to help them exit as smoothly as possible. But other times, you have to get into a little tug-of-war with command to advocate for your clients and say, "I think this person can recover and return to functioning. They just need this kind of chance and this kind of help."
The Benefit of Conferring with Your Comrades
I also learned a lot about the importance of consultation with peers — not just fellow military social workers, but other behavioral health officers. It was very useful to be able to sit down and say, "Here's how I'm seeing this case, but I'm torn between these two sides of the coin," and talk that through with experienced folks who have been there and done that for a long time.
Getting different perspectives can really help clarify your decision making and also make you feel less isolated in that process. And that's kind of the medical model of the case management teams: maybe you don't know what to do, but if you talk through it with enough trusted, experienced folks, they can help you come to the best decision.
Passing on What You've Learned
Throughout my career, I have been passionate about the work I've done, and it's been very rewarding to see the positive impact it has on active-duty service members, veterans, and their families. The military gave me a lot, so I want to keep giving back as much as I can, which is why I was inspired to go into academia after retiring from the Air Force. I see what our troops endure, especially our young folks in combat zones, so I want to do all I can to improve their experience and wellness and help them thrive.
As an associate professor and director of the Military Behavioral Health Research Lab at the UK College of Social Work, I'm able to use my experience to guide students on the path to becoming military social workers. I also have the privilege of collaborating directly with the Army through our partnership, in order to ensure our students are fully prepared with the knowledge and skills they need to serve our brave men and women in uniform. It's the perfect second act to my career.
For more on UK's military social work program and partnership with the US Army, read this detailed Q&A with Dr. Flaherty.
Explore the University of Kentucky's Online MSW, Support for Military, or their Military Behavioral Health Lab. The UK College of Social Work offers great educational tracks for military and veteran social workers as well as civilians who want to help service members.
To get in touch with an admissions counselor about UK's military social work programs, fill out this form or call 1-833-358-1721.